Test & Inspection Equipment
Fibre Optic Systems offers a full range of fibre optic test equipment, with everything from the simplest visual fault locator, through to a fully featured OTDR. Fibre optic test equipment is critical in maintaining optimal performance from your fibre optic network. Ensuring your system is performing optimally can mean the difference between network success or failure. FOS offers fibre optic test equipment to meet any requirement including:
1. Visual fault locators
2, Fibre identifiers
3. Analogue and digital scopes
4. Light source and power meters
5. Loss test sets
6. Optical time domain reflectometers (OTDRs)
Test & Inspection Equipment

- Accessories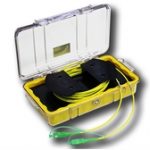 Analogue & Digital Scopes
Test & Inspection Equipment

- Gas Detectors
Test & Inspection Equipment

- Light Sources
Fibre Optic Light Sources
Test & Inspection Equipment

- Loss Test Sets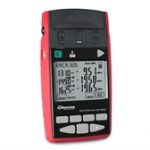 Fibre Optic Test Kits
1. Singlemode and multimode
2. MPO testers
3. Standards compliant test equipment
Test & Inspection Equipment

- OTDRs
Optical time domain reflectometers (or OTDRs) are functionally powerful fibre optic testers. OTDRs work by injecting optical pulses into fibre optic links and measuring the reflected and back scattered light. OTDR technology gives trained fibre optic technicians the best indication of the location and type of events along a fibre optic link, including splices, patches, fibre attenuation, macro bends, micro bends and fibre damage. OTDRs are a key tool in fibre optic testing, allowing for excellent non-destructive fibre analysis from the end point of a fibre network, indicating problem areas in fibre networks up to several km from the test point.
Please don't hesitate to contact your fibre expert at Fibre Optic Systems for further details or a quote on an OTDR for your fibre optic testing.
Test & Inspection Equipment

- Power Meters