Active Ethernet & Networking
Fibre Optic Systems range of premium industrial and commercial grade active Ethernet equipment is designed to provide trouble free connectivity and integration into your fibre, copper or hybrid network.
Fibre Optic Systems' supplies a broad selection of devices including:
Ethernet Switches
Industrial and Commercial Media Conversion
Mini GBICs and SFPs
Singlemode to Multimode Conversion
Uninterruptible Power Supplies (UPS)
Media Converters offer a cost effective and easily implemented method of extended Ethernet links over distances that exceed the capabilities of standard data cabling. As networks grow beyond the existing operating range of 100m, media converters can limit the need for several costly repeaters or intermediate switches. Typically employed in pairs, media converters convert from/to RJ45 Ethernet, along a pair of fibres. Transmission ranges are dependent on the fibre type and quality used and care should be taken when selecting the mode and connector type of your media converters to match installed fibre – ensuring distances are within the allowable range.
Active Ethernet & Networking

- Mode Conversion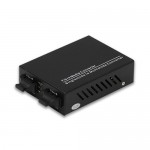 In optical networking, there has been several evolutions of optical fibre technology, both to improve existing technology and bandwidth, and in the implementation of different technologies to suit various applications. This has led to a mix of optical fibre types being implemented in networks around the world. This is particularly apparent in differences between short distance multimode fibre links, and the long distance singlemode fibre links.
Often it is required to convert between singlemode and multimode fibre when upgrading an existing installation while maintaining some legacy links. Fibre Optic Systems offers mode converters specifically for this task.