Rackmount Enclosures
, or Fibre Optic Break Out Trays (FOBOTS), are widely used in telecommunications networks for the storage and presentation of fibre terminations. They come in a wide variety of configurations with certain attributes suited to different cable types and applications. Fibre Optic Systems' offers the CoreLink Plus range of modular and adaptable rackmount enclosures as well as a range of legacy termination enclosures. Some of the variants available include:
Fixed patch panels
Fixed enclosures for splice & patch
Sliding enclosures for splice & patch
Fixed entry sliding enclosures with conduit fibre management
Rodent proof fixed and sliding enclosures
Fibre Optic Systems offers enclosures unloaded or as an assembled unit complete with pigtails, adapters, splice tray, protectors and patch plates. Contact us today for information or a quotation on loaded enclosures.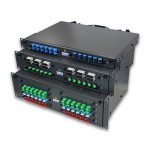 CoreLink Plus Range of rackmount enclosures.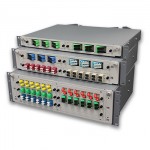 Fibre Optic Systems range of legacy enclosures to suit a range of pre-existing installations.